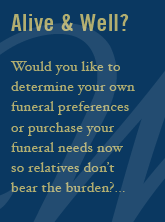 Personalization
Wilbert offers multiple ways to personalize a burial vault or urn vault with words, symbols, and images that speak of a singular spirit. Your loved one had a unique personality. The selections you make for the visitation and service should communicate that singular spirit. These choices ensure your loved one's memory is remembered for generations to come.
Blairsville Wilbert
added cremation services in March of 2004
at its Blairsville location
, and
October of 2006 at its Mt. Morris location
.
Personal Human Cremation
is offered by certified technicians. Cremations are carefully returned to your location by our Blairsville Wilbert employees. We also offer a full line of
cremation urns
and cremation supplies.